An inverter is a device that connects to a 12 or 24volt supply and converts it into 240 volt energy. There are many devices on the market and prices vary tremendously.

Which Type to buy? As a rule its usually wise to calculate what you think you need and add a bit more. If you are planning to charge laptops, cameras, run TV's etc then you may need something like a 2000 watt inverter. But what if you are not planning on using a lot of energy? I personally don't want to load my van with a lot of power hungry devices. Many people are the same, but give a thought to how much power the inverter will use on stand-by or start-up mode because a 2000 watt inverter may use more energy than an 800 watt inverter even before anything is plugged in. The amount may not be excessive but remember all these little drains on your electrical system do add up.
Pure Sinewave or Modified Sinewave? Without going into great detail check the applications you wish to charge. Many have bought inverters that are not Pure Sinewave and they work fine until they attempt to charge applications like the iPhone. You may find it will start to charge for around a minute then stop. Some applications require Pure Sinewave only, others are not so fussy. Below I will list a description for a Modified Sinewave Inverter that will charge the iPhone (it's also a good price).
Victron or Krieger? The Krieger KR2000 1000W or 2000W Power Inverters (They go even higher) offer the best value for money in my opinion. They have good internet feedback and they are capable of charging most iPhone and laptops that I know of, (at the time of writing this article). Costing £160 (around $200) for the 2000W version, it's value for money. So why didn't I buy it? I decided on the Victron 12/800, it cost more than double the price and delivers only 800 watt as opposed to the Krieger's 1000 watt. I didn't require anything above 1000 watt and whilst the Krieger seems to cope with most iPhones (and similar) I did wonder if the day would come that some devices may only accept Pure Sinewave and nothing else. One other point, I am informed that the Victron has excellent built-in protection devices (I am not saying the Krieger hasn't). The Victron has a proven track record for being reliable and on a very hot sunny day with the Victron stored under my seat (low ventilation) I wanted something that is very well protected. There is also a Eco Mode feature that uses less power plus the ability to add a remote On/Off switch meaning I don't need to go under any seat to turn it off. Unfortunately Victron charge extra for the on/off remote panel whilst the Krieger Inverter comes with the panel included in their price.
Below: The Kreiger 2000 Watt Inverter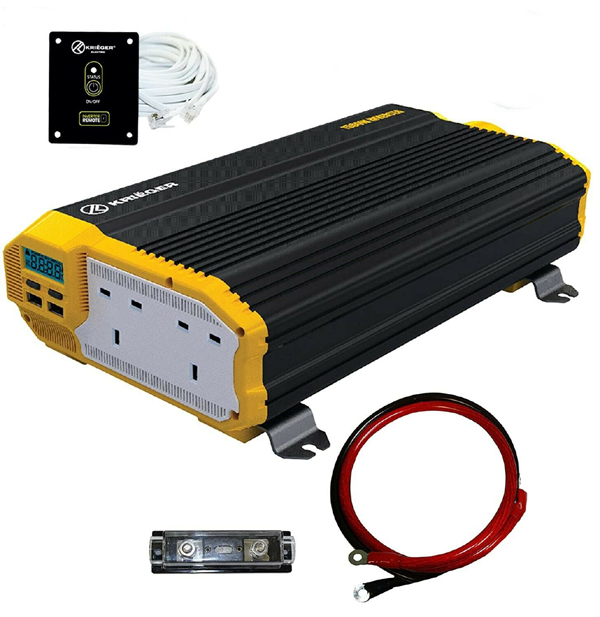 Below: The Victron Phoenix Bluepower 12/800 12V 800W Pure Sinewave Inverter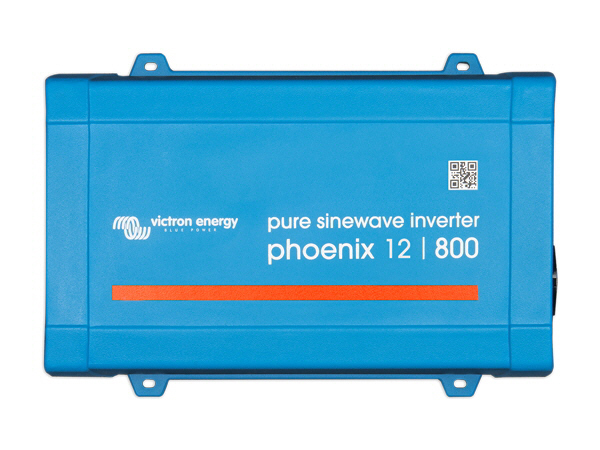 Reliable and Efficient
The Victron Phoenix Inverter is short circuit proof and provides protection against overheating even if there is a high ambient temperature or an overload occurs, while having a full bridge plus toroidal transformer.
Economic Functionality
With the possibility of an Eco mode the Victron Phoenix Inverter will automatically switch to standby if the load decreases and gets lower than the pre-set value of 15w. Once the inverter is within standby mode the inverter will then switch on for a short time if the load then increases above the pre-set level and it will stay on.
Remote Monitoring
The Victron Energy Phoenix Inverter VE.Direct is Bluetooth compatible and can be controlled and checked on a smartphone, tablet or laptop via a Bluetooth Smart Dongle.
All settings of the Phoenix Inverter can be configured with the VictronConnect app.