UK Only: This page is about getting approval from a Van or a Van With Windows into a Campervan and being officially registered by the "Driver and Vehicle Licensing Agency" (DVLA). The actual term that DVLA will register on the document is " Motor-Home"
PART 1: THE FAILURE (There are 2 parts)
Its worth reading Part One (The Failure) first as it shows just how easy it is to fail. In fact I estimate that most people that apply for DVLA Campervan approval will fail. This seems to be the case with regards the number of comments on the internet and also YouTube. In fact at the time of writing this article I haven't found anyone that has passed (March 2021). Instead most people appear to have been granted the term "Van With Windows". Dont worry if you fail it doesn't mean you cannot get insurance. Your vehicle maybe registered as a Van With Windows but there are still Insurance Companies that will recognize it as a camper-van regardless of what DVLA state it is.
Arian Flux Insurance is one such reputable company, you can call them on 0344 381 6502 they are based in King's Lynn, Norfolk (established 1974 with 1,000 staff and 600,000 policy holders) https://www.adrianflux.co.uk/
DVLA (UK Law) says this vehicle is not a camper-van?
I read so many times articles from people that have tried to re-register their vehicle as a camper-van after having completed a conversion. To be fair some do look like vans with windows and without closer inspection I couldn't say for sure whether they were camper-vans or not.
The new law states that the vehicle needs to include items such as a fixed bed, cooker, table etc and also have two or more windows down one side of the vehicle. Perhaps the main feature that the people at DVLA are looking for is that the vehicle must look like a camper-van, in other words not look like a work van with windows, perhaps something that the police can easily recognize as being either a commercial vehicle or a leisure vehicle at a glance.
According to my first application with DVLA my vehicle could not be recognized as being a camper-van and for example if someone was to see it on a road or parked up, then they would not be able to distinguish it from a commercial vehicle. This is not my opinion but the opinion of the DVLA who had reclassified the vehicle as a "van with windows" and as such not to be confused with a camper-van or leisure vehicle. I find that difficult to understand along with the hundreds maybe well over a thousand vehicle owners that have also failed to have their vehicle reclassified.
What is a van with windows? The exact term on the DVLA V5C is as follows – Body Type: Van/Side Windows – Taxation Class: Light Goods Vehicle. The term means that the vehicle is registered for carrying light goods and thus should be treated as such although it is not illegal to carry people nor to sleep or cook inside it.
The DVLA reclassification form is fairly basic. It has a list of requirements that need to be ticked off. Most of the list is definitive, its basically black or white, for example either you have a fixed bed and cooker or you dont etc. One area that's wide open for different interpretations is the exterior of the vehicle and whether the graphics and external appearance is that of a camper-van. DVLA hold all the cards here, what they says goes and that may well not be right or fair as I will explain. I cannot find any rules that state the external graphics need to be of a certain shape, size colour or location. What this means is that the judgement lies solely on the perception of the person at the DVLA judging the vehicle at the time.
MOT: When I took my vehicle for its MOT after the conversion I hadn't submitted my reclassification form to DVLA nor did I mention to the MOT tester that I planned to do so. What I found was that the MOT testing station had tested the vehicle as a Category 4 vehicle (any goods vehicle not exceeding 3000 kg) or camper-van or motor-home. The MOT testing station were unable to distinguish it as anything other than a camper-van, yet DVLA can. The reason is not plain to see, which thus raises the question. What is the benchmark that the DVLA uses and why isn't this benchmark being offered to the public for them to work from? My guess? There isn't a benchmark as such, the visual judgement is at the discretion of the DVLA viewer at that time.
DVLA Failure: Van with Windows NOT a Camper-Van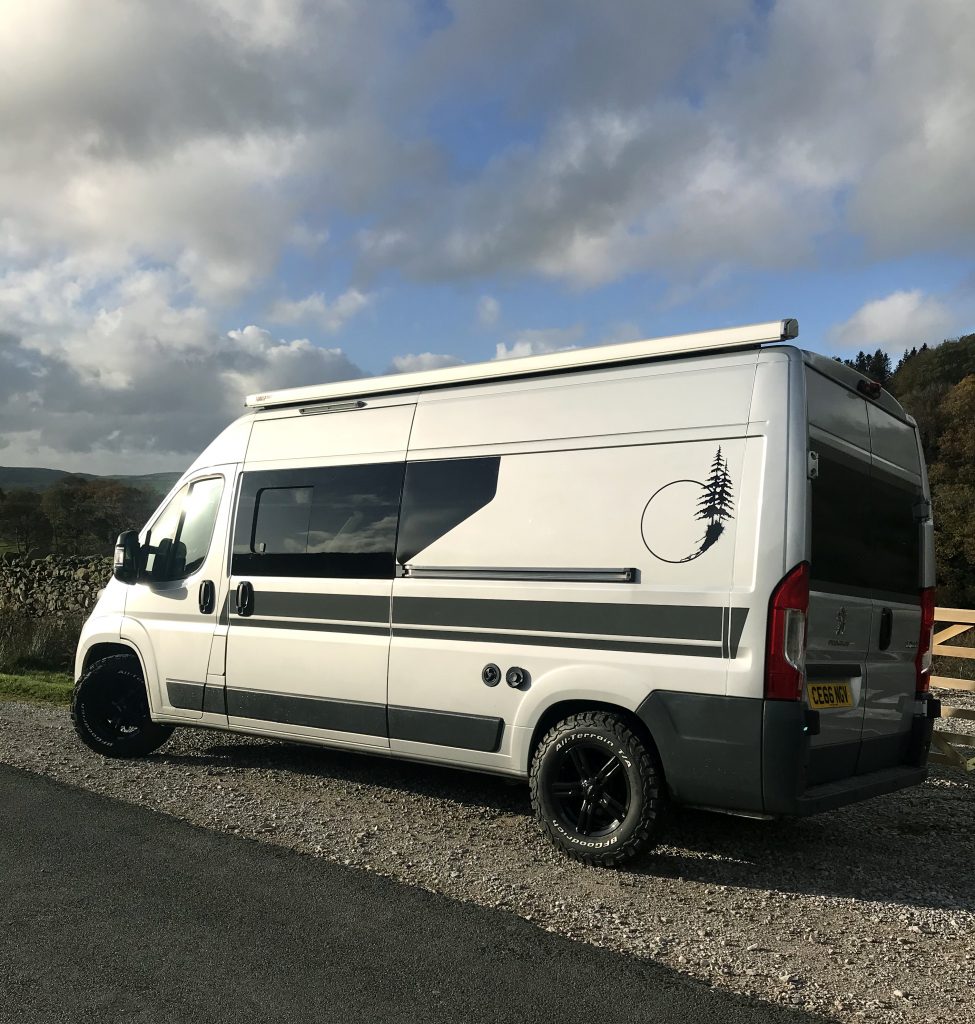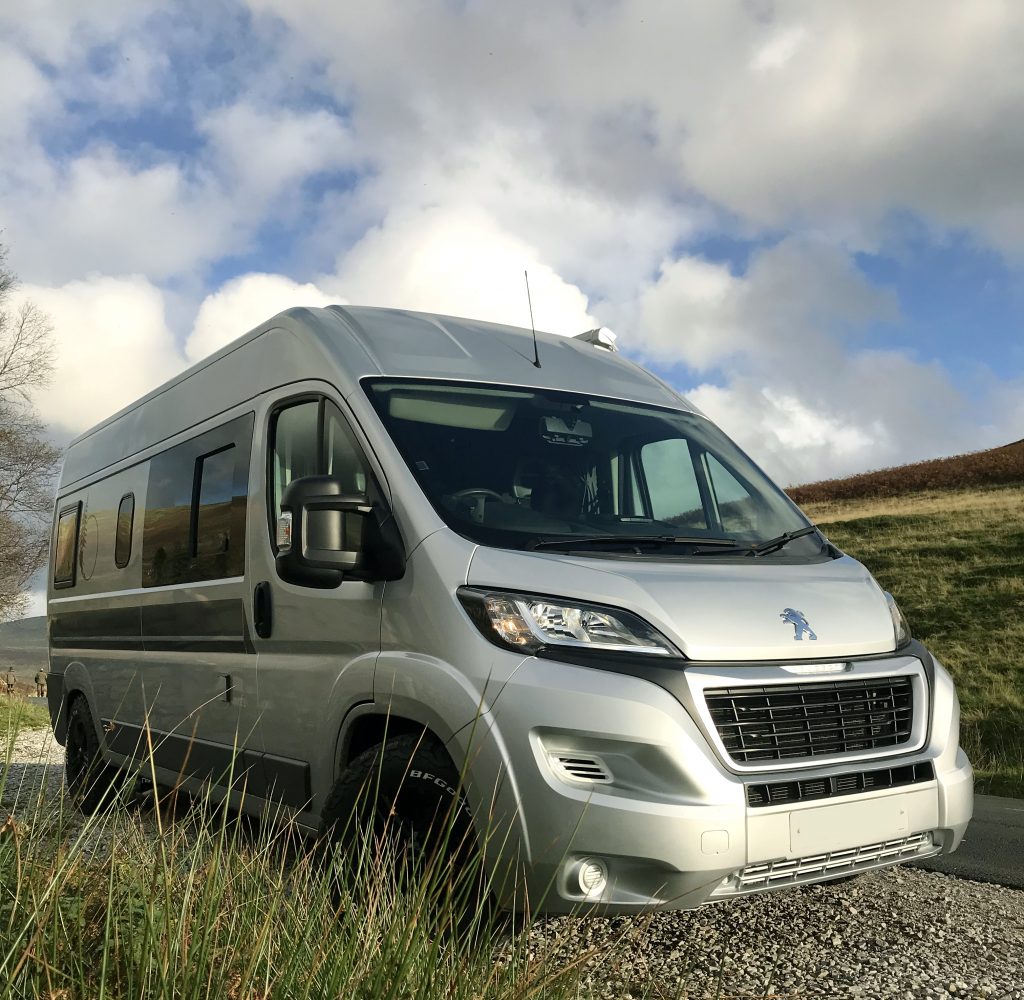 PART 2: THE PASS-Now its a Motor Caravan
Once I received my documents back from DVLA showing that I had failed in my attempt to get the vehicle registered as a Camper-Van I started to look at reasons DVLA could fail it.
I believe most people fail because of the Exterior: The interior is a matter of box ticking, either you have the DVLA requirements or not, its as simple as that. The Exterior is a different matter, this is an area of personal opinion there are no definitive rules.
There was one area that I believe caused my vehicle to fail.
Look below, if you were for example a police vehicle following me, say, 50 feet behind, could you say for certain my vehicle is a van or camper-van? My view is that DVLA use a "general rule" and below I believe this was the weakness on my application that caused me to fail.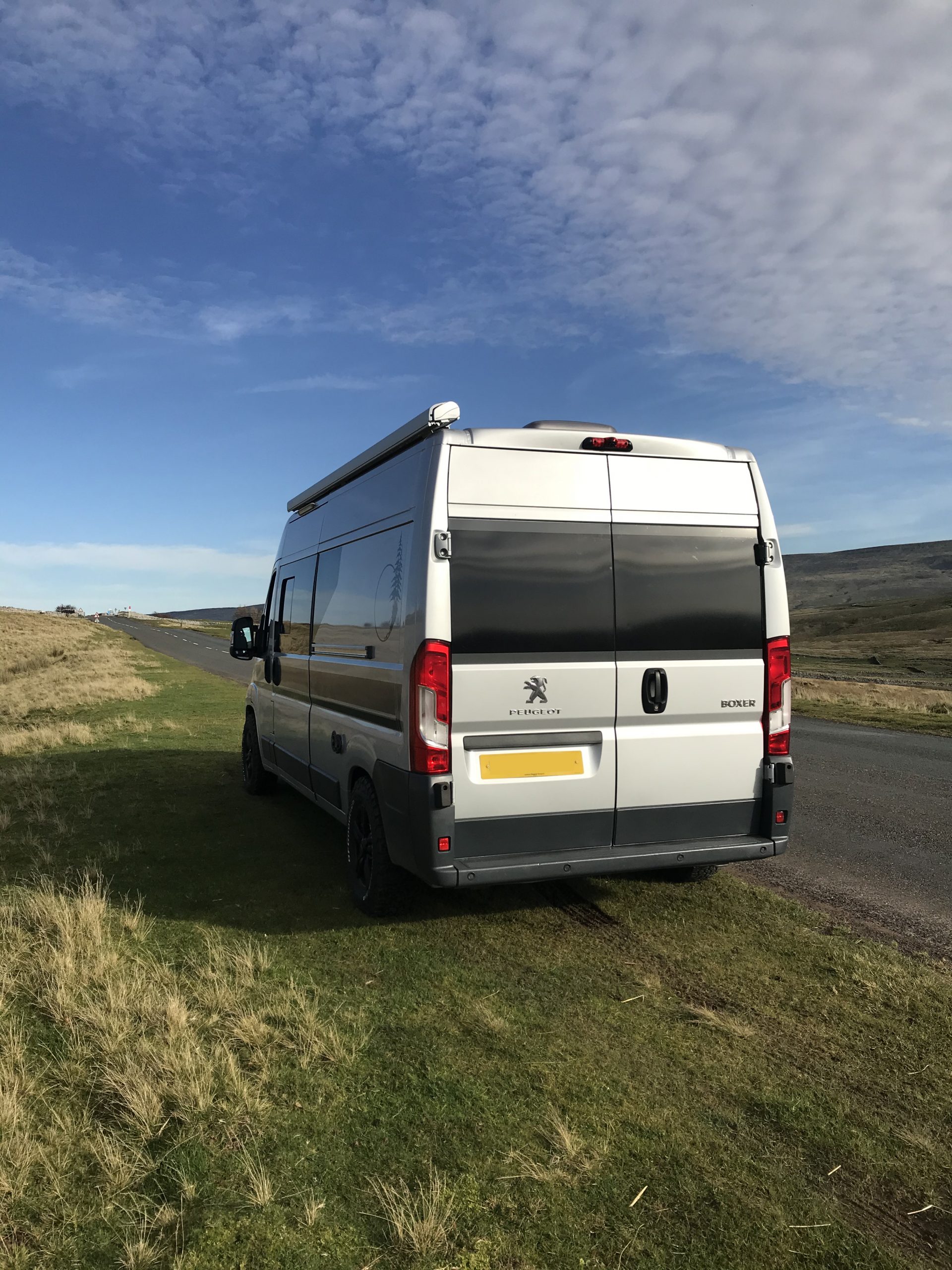 Now to get DVLA Motor Caravan Approval
Taking the base vehicle I simply added a few extra graphics as shown below. The graphics cost around £40 for the set and as an added bonus I wrote the word "camper-van" so that a blind man on a galloping horse couldn't mistake this vehicle for anything else. In my opinion its difficult for the DVLA to say it is not a camper-van or motor caravan.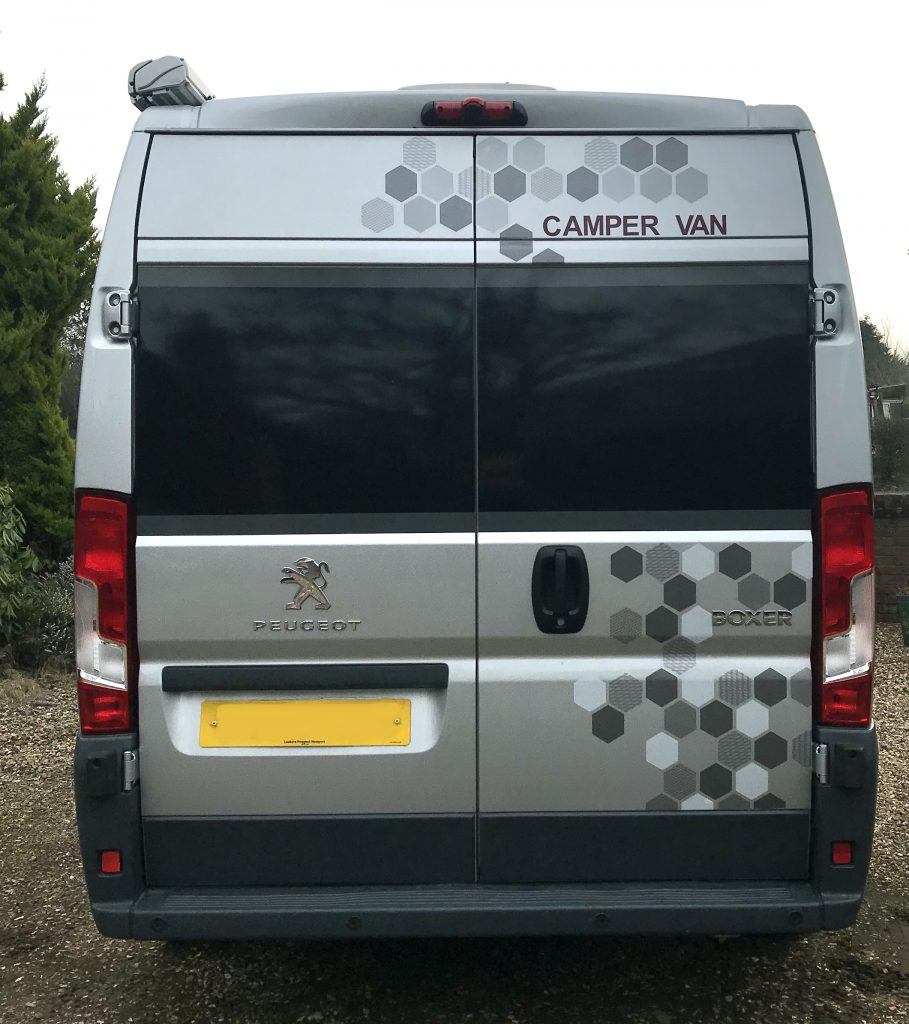 I had enough stickers left over so I added more graphics to the side, just in case those original grey stripes were not enough.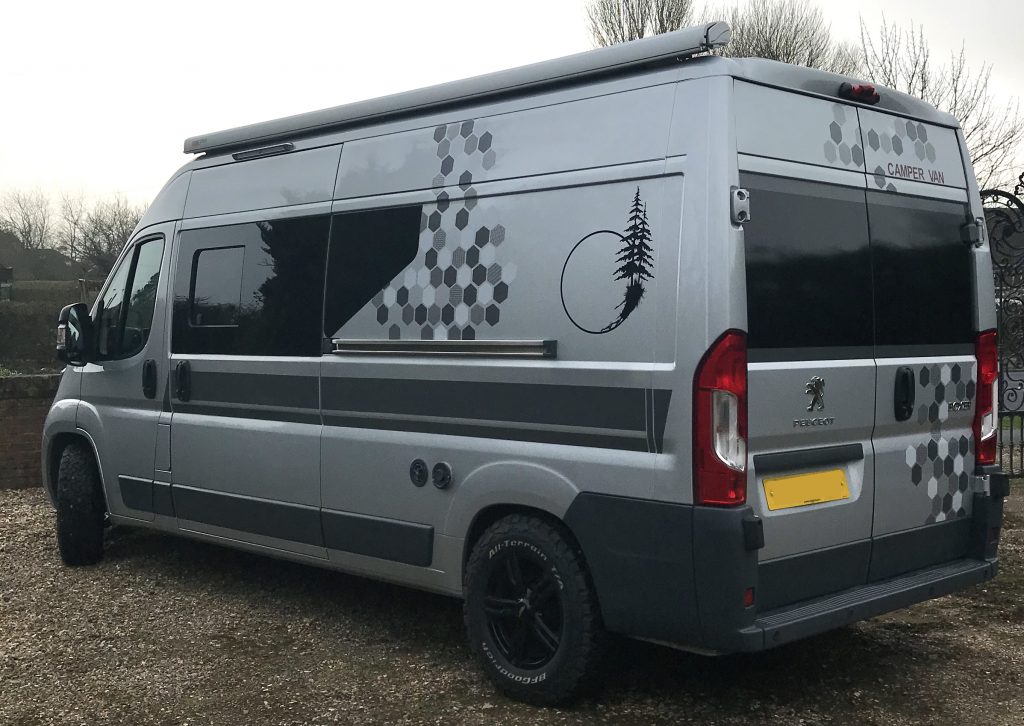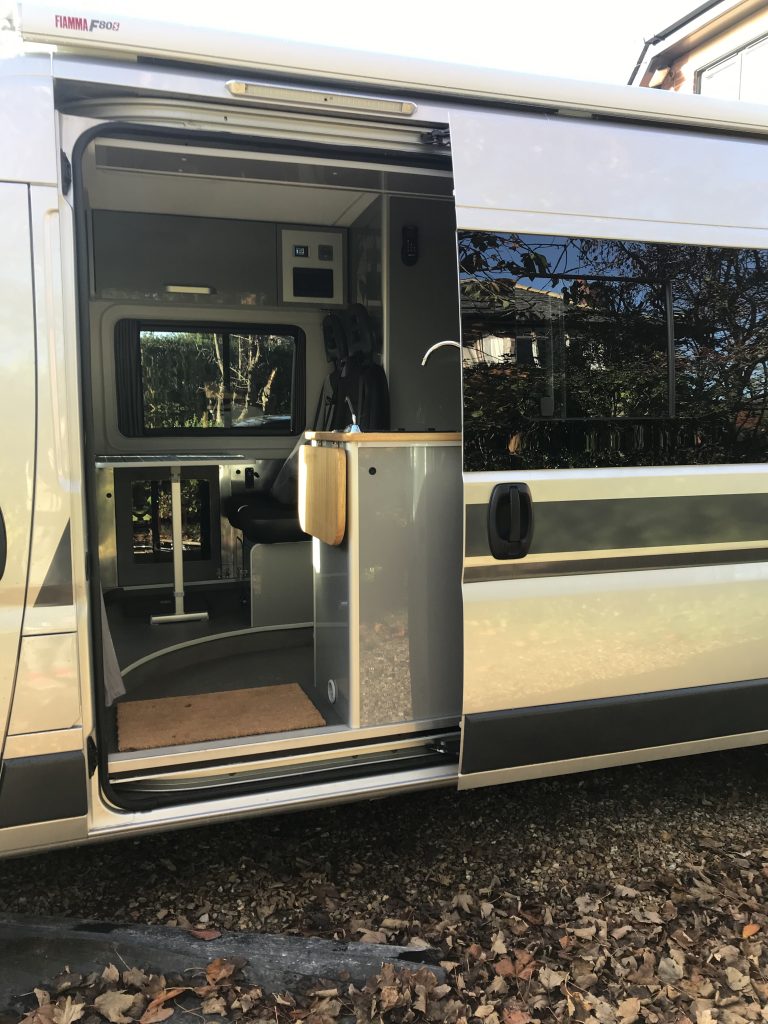 The result
It passed and is now fully registered as a Motor-home. So what does that give me that a Van With Windows doesn't? Well there were some insurance companies that were not willing to offer me camper-van insurance. This now changes, I should be able to get insurance coverage from all insurance companies that offer this type of insurance. Hopefully I will be able to shop around for the best quotes and when I come to sell the vehicle on I can list it as a true fully registered Motor-Home.