Watches from owners around the world. Please note as owner of this site I cannot verify the authenticity of the builds. Some builds do contain one or more authentic parts. See the page "Owners Gallery" for an explanation what is meant by authentic parts.
The 6152 LP with Angelus 240 cal
Parts: Nightwatch 6152 Case and Parts
Movement: 8 day Angelus all bridge plates are authentic
Location: Moscow Russia
Authentic Parts: Yes (of the period/1950's)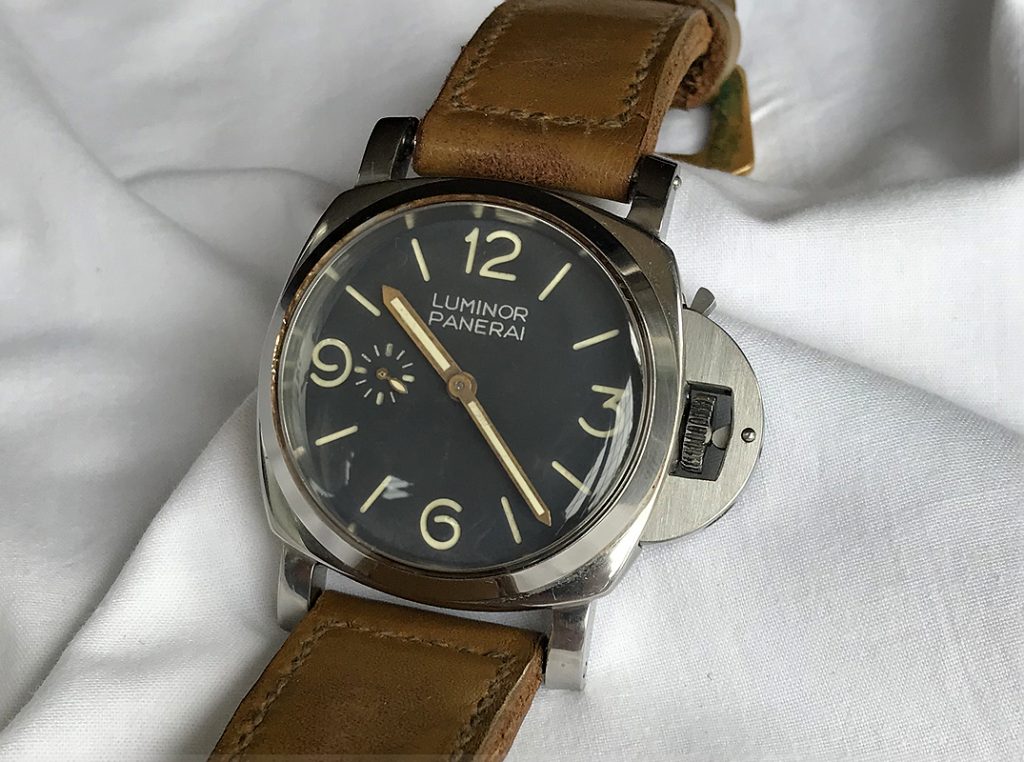 Built in 2019 this watch contains an Angelus 240 cal 8 day movement. Whats interesting about this movement is that the bridge plates are authentic. Movements can be upgraded and the bridge plates changed for a non-authentic set, often they look very good. However, I personally saw this movement over 4 years ago and at that time no plates with narrow CDG were available. Its fair to say that the bridge plates on the movement are authentic Angelus Plates, as found on genuine Vintage Panerai 6152 watches.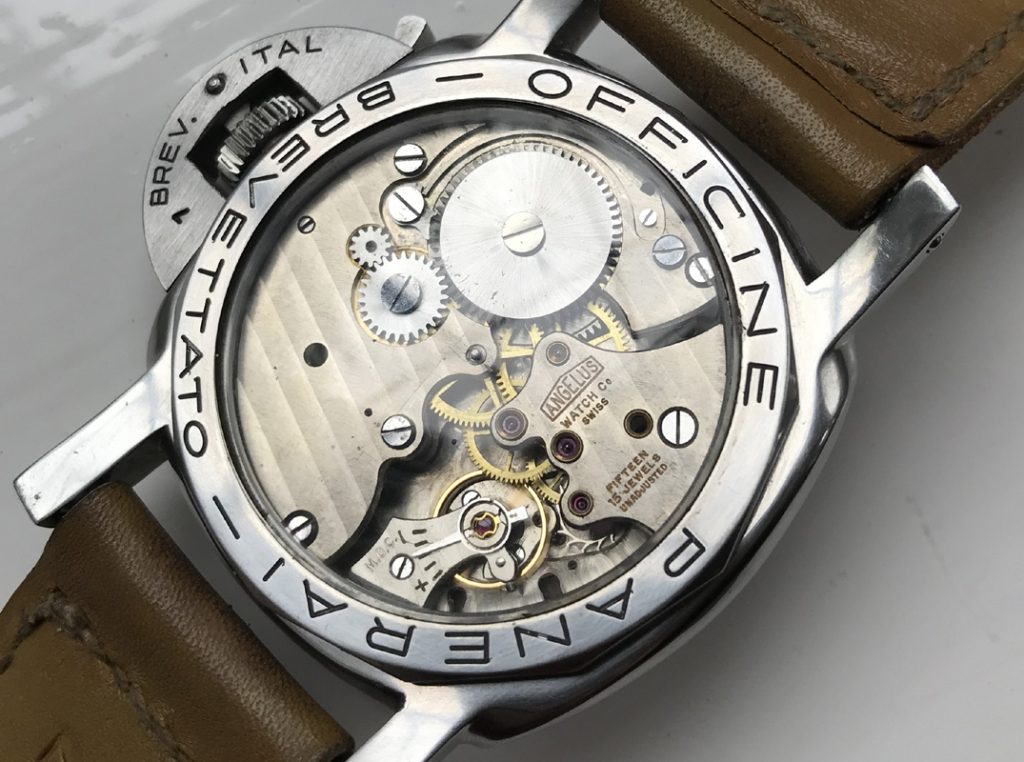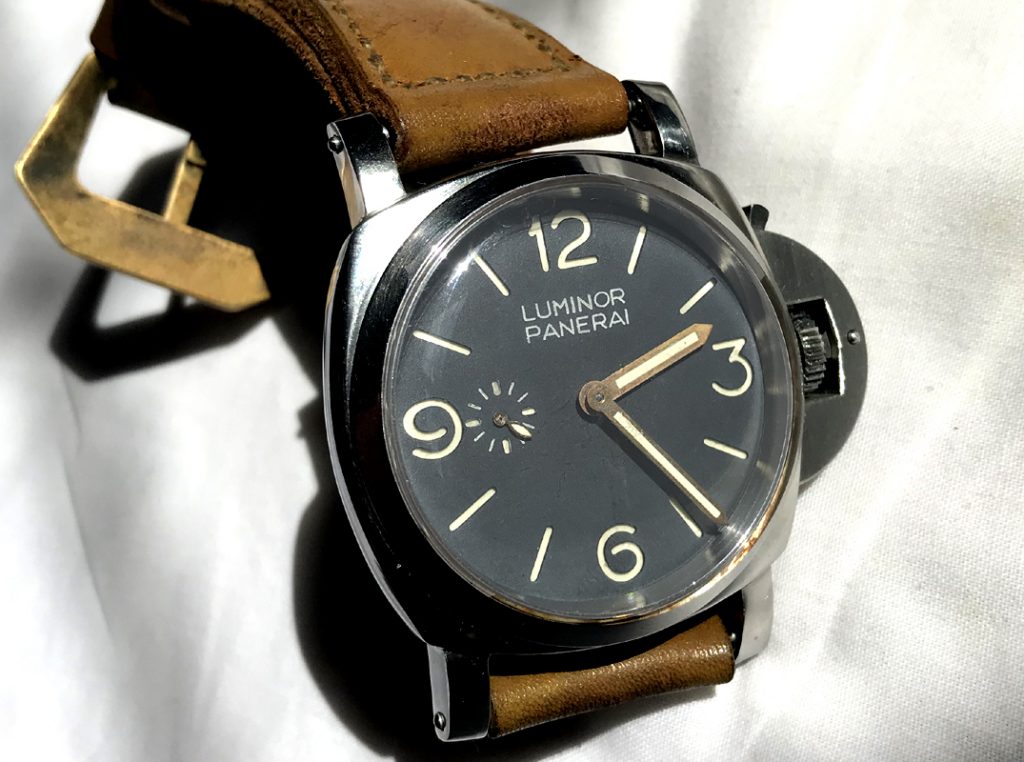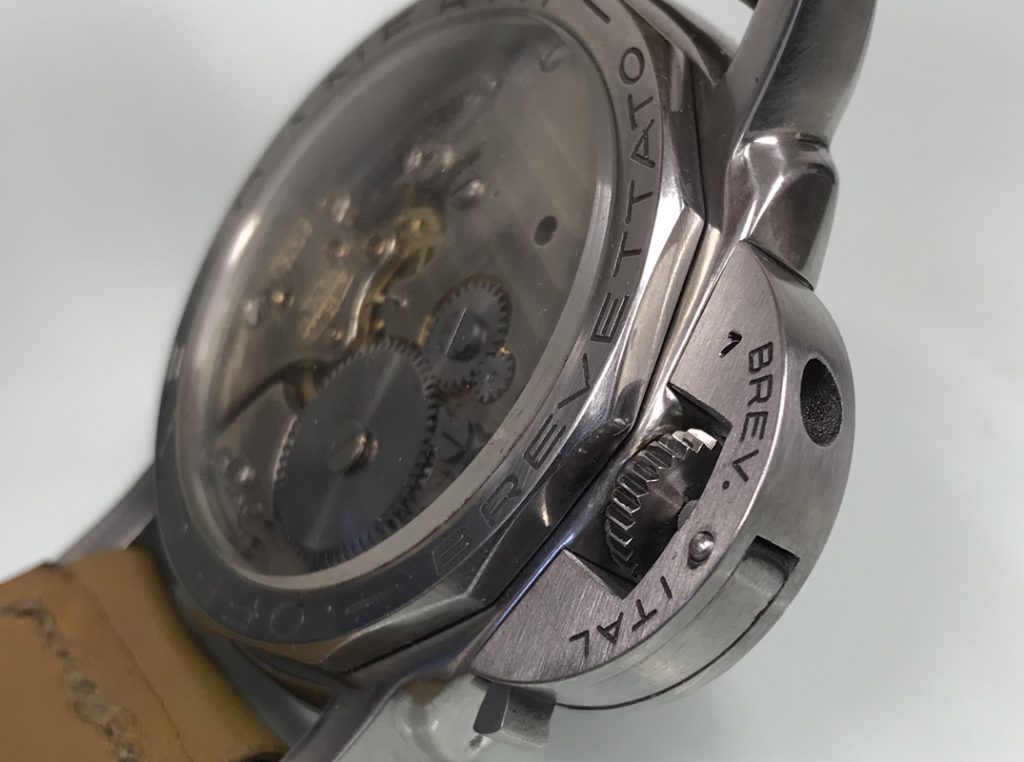 "The story behind this watch"

What does a watch like this cost to build?
Lets start with the movement as prices vary a great deal for the Angelus 240 cal. Its possible to buy a Angelus 240 cal movement for as little as a few hundred dollars without "incabloc"(shock protection around the balance wheel) and with the old alarm clock gears on show (not what you really want to see). Whilst on the opposite end of the scale you can pay $2,220 to $2,500. So why such a big difference in prices? The expensive movements may have been converted and this is an expensive process especially if the watch pillars are shortened. Then there's the watch-smith's cost, these vary widely too. Currently there is only one supplier in the world that has produced all the parts required to convert an alarm clock Angelus into the type of movement we find in the early Vintage Panerai 6152. His prices are fixed at $2,200 to $2,500 at the time of writing this article (2019). (Modern CDG is shown in the image below)
"I did not want a converted Angelus 240 movement, I wanted a movement that was authentic"

Converted movements are really nice I have seen and fitted many but the plates can be new so if you look carefully you can see new parts mixed with old. However, for this 6152 project I wanted something special, I wanted a movement that had not been converted something that had all the original plates. I also wanted close or narrow CDG not the wide CDG. These movements are not easy to find, they do not come up for sale often.

"I found an Original Fine CDG Plates Angelus 240 cal (I've got to have it)"

Eventually I found an owner of an Angelus 240 cal with all the authentic plates and also with fine CDG (Cotes du Geneve) it was exactly what I was looking for. This would be the closest I would ever get to the authentic 240 cal movement that was in the authentic 6152 watch. The only problem was getting the owner to sell the movement.
"I bought it"

One day I was sitting in a restaurant just outside Amsterdam, the table was full of watches, two genuine Panerai 127's, a collection of Vintage Panerai projects, we were discussing projects and builds, I had known the seller for a few years, we try and meet up whenever I visit Amsterdam. Time passed slowly and about 18 months after this meeting I received a call, the owner of the 240 wanted to sell the movement, he hadn't used it and it was time to let someone else make good use of it. I immediately asked the price and was told he wanted $2,200 for it, I immediately bought it. People may ask why I didn't try and bid the price down, with this seller we don't do this, he asks what he wants, not a starting price, I know the seller well, if he says $2,200 its for sale at $2,200 not $2,199, its how we both work.
"I waited 2 years to build the project"

It was another 2 year before I started work on the project. I wanted to use the latest and best Nightwatch 6152 Case, however, the design of this case had already taken a year and it was another 2 before the first batch of 6152 cases were made. In that time I started to collect a few parts that I thought special and saved them for the build.

"Finding the Perfect Dial"

Many dials pass through my hands. However, one day I completed a batch of anodized dials that were ready for acid ageing. As they passed through this process I noticed one dial had a superb ageing effect not black, but a type of blue/grey black exactly like the vintage Panerai dials that had faded over the years, the indices were cut just perfect and the surface texture was just right. I saved it for engraving, that's when disaster struck
"Disaster! The dial was destroyed"

Vintage Panerai Dials were Pantograph engraved, this was before CNC was invented. If you want to know if a dial is genuine look carefully at the engraving, CNC is too perfect, Pantograph is hand controlled engraving on the pantograph machine, its skilled work and takes a long time to master. The engraver follows a large template which is reduced to a very small engraving area via the Pantograph. The Engraver had used the wrong template, the dial was destroyed
"I need the best dial because thats the first thing people look at".

Eventually I found another dial that had the perfect patina and this time the engraver took great care. I now had my dial. Look carefully and you will see slight changes in the letter thicknesses below. That's called the "engravers signature" it's exactly what you want to see. It shows the dial is hand engraved.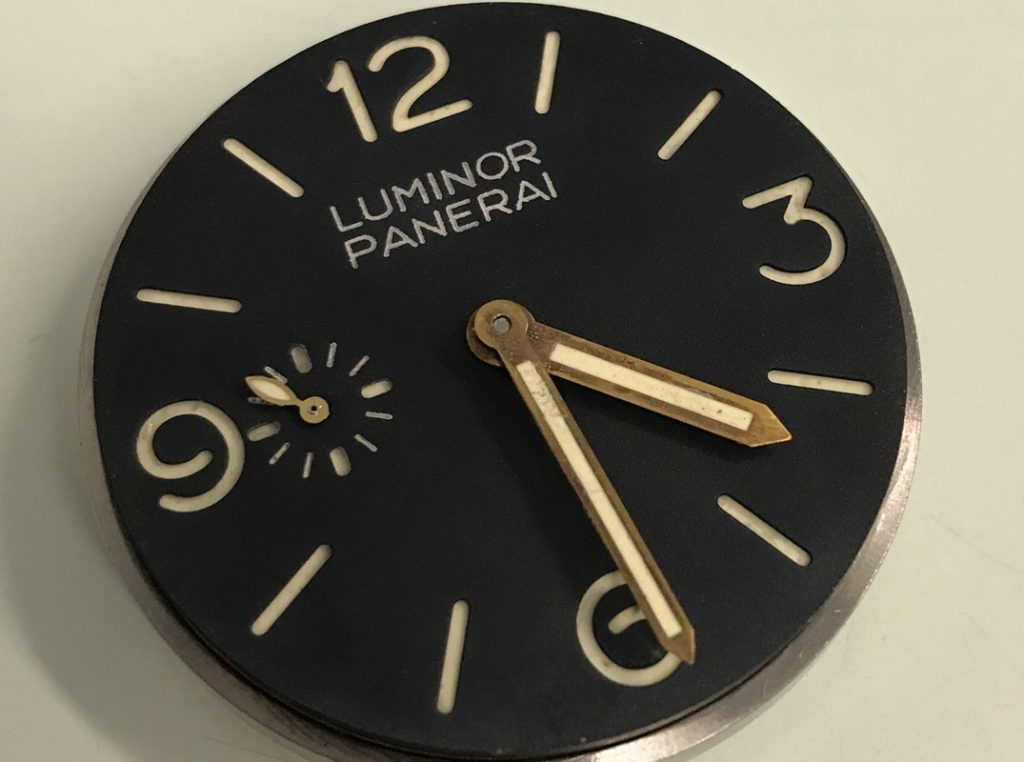 "The crazy things people do, its the most common thing I see"

I can never understand why a person buys an expensive movement, and then asks for it fitting inside a watch without ever servicing the movement. Consider the following. A craftsman hand builds a beautiful vintage car, would you put an old engine in it without ever bothering to change the oil and service it? The facts are that most (almost everyone) does this, its something I will never understand.
"2 Years to build had now become almost 3 years"

Finally all the parts were assembled. The movement had been serviced and the project build was under way. The 6152 Case has come a long way since the early Chinese made Jackson Case which were dye-cast (slightly softer than Stainless Steel and not as precisely made) however, they were fantastic value for money. For the first time I had a solid case cut from a bar of Stainless Steel, machined and finished similar to the Vintage Panerai cases produced in the late fifties and early sixties.
"Patience a word that's needed when building a vintage project"

Word got about one day that there was a watchsmith in Paris that was retiring and he had around a dozen genuine Rolex Tropic Plexis he wanted to sell. Normally these stories are fake but on this occasion it was indeed genuine. I managed to get hold of one. I saved this plexi for the ultimate build, I had kept it for over 7 years, it was now time to use it. I also noted two genuine Rolex Tropic Plexis for sale on EBay, one was priced at $600 and the other $1100…. ouch
"I need one more thing, a good leather strap"

There are many excellent strap makers but one of my favourites is Peter Gunny in Indonesia. Peter makes fantastic leather straps, the leather is always very soft and comfortable to wear. I opted for the MMII at $240 and decided to make my own buckle out of a thick piece of brass.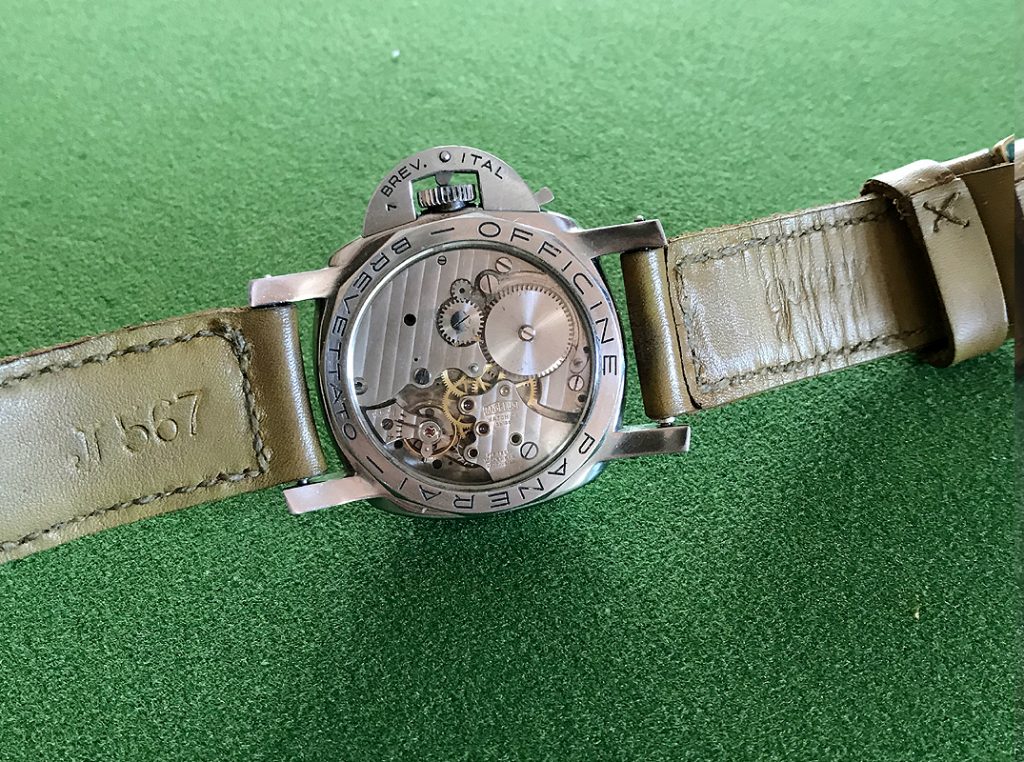 What did it cost to build?

DIY Parts means not shaped polished or finished
1) Nightwatch 6152 DIY Case (unfinished) Website DIY Price $350
2) Nightwatch 6152 DIY Case Parts Website DIY Price $245
3) Genuine 1960's Rolex Tropic Plexi $110
4) Movement $2,200
5) Movement Servicing $120
6) Dial with hand soldered dial-feet Website DIY Price $130
7) Peter Gunny MMII Leather Strap Price $240
8) Hour and Minute Hands Website DIY Price $40
9) Specially made sub-dial hand Website DIY Price $50
10) Buckle about 2 hours work $50
11) Time (the lowest value I put on my time) $300
"Finally its time to call it a day, I have retired from building Vintage Projects"

I set myself a goal and that was to build the best three Vintage Watches I could, one 6152, one 3646 and one special Modern Vintage the MV. Personally I achieved the goal, and having done so its time to retire from building any more. If you add up all the costs above it is an expensive watch but its worth more to me than anything I could ever buy in the shops. Would I build another for $300 labour costs like the above?….NO…..