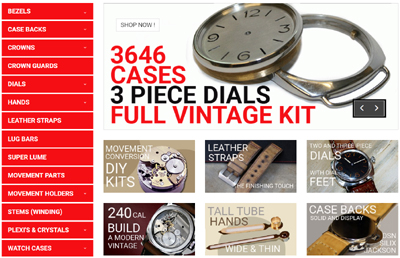 Want to build a project yourself? The link at the bottom of this page will take you to another site with a large selection of parts but before you go below are some helpfuls tips.
Firstly you will need to consider what type of watch you are going to build. This site only deals with Vintage Panerai and nothing modern or new. If you are looking for a Vintage then you are in the right place.
Decide what movement you will use. The most popular are the Unitas 6497 (about $40 to $60) the Molnija (about $60 to $130) the Cortebert 616 (around $340) the Angelus 240 cal (from $800 to $2400) and the less common Rolex 618 ($2800 or more). If you are going to use a different type of movement then you need to consider whether it will fit inside the case and also whether there is a movement holder to to support the movement when its in the case.
Case: Check that the case you are planning to use is compatible with the upgrade parts that are available. Often people buy a case only to find that nothing will fit. The best cases to use are 3646 = River, Silix or the Vintage Watch Parts Case and the 6152 = Jackson, DSN or the Vintage Watch Parts Case.
Click here for the Vintage Watch Parts Store